Heart of Clouds
by Adrienne Wilson
(for Walter Halsey Davis, of the Santa Barbara Writers Conference)
*adaptation of of my Novel Heart of Clouds, to go to film – page 101, chapter is "Hearts"
INT. TEENIE BEDROOM. EARLY MORNING.
Teenie wakes up to the scent of Mr. Honeygarten's roses nodding in a vase next to her bed. Switches on a nightlight, and takes Devlin's note from her pillowcase, reading it over and over again. In her pajamas, goes to her window, watching the clouds. She exhales, warm breath against the glass and draws a heart, with the letter D inside it.
INT. TEENIE APT KITCHEN. EARLY MORNING.
Teenie slowly stirs hot chocolate as Christina comes into the kitchen.
TEENIE
Want some Mom?
CHRISTINA
No honey, I'm going to have coffee
TEENIE
Mom you fell asleep so early last night
CHRISTINA
I know. I'm just so tired Teenie. I don't think I ever felt this tired before, honey.
TEENIE
Guess what Mr. Honeygarten told me?
CHRISTINA
What honey?
TEENIE
He used to know a girl named Claire when he was my age.
CHRISTINA
He did?
TEENIE
He told me she stole his heart
CHRISTINA
He's such a sweet old gentleman, Teenie
TEENIE
We had tea again
CHRISTINA
That's nice honey
Christina moves to switch the TV back on again, to the news.
TEENIE
(sighs)
Wanting to keep talking to her mother. No use.
FLASHBACK – HONEYGARTEN and TEENIE
Teenie and Mr. Honeygarten discuss Claire, and look at pictures of her.
TEENIE
She was beautiful Mr. Honeygarten. I wish I had known her.
HONEYGARTEN
I once kissed her hand. She was a romantic.
TEENIE
What does that mean?
HONEYGARTEN
(pulling an ancient dusty gilded leather-bound book from the shelf)
Teenie, the only way a person can understand romantics is to read them, my dear. Let me recite one of Keats. Claire loved it.
HONEYGARTEN
(begins to read from Keats, "A Thing of Beauty")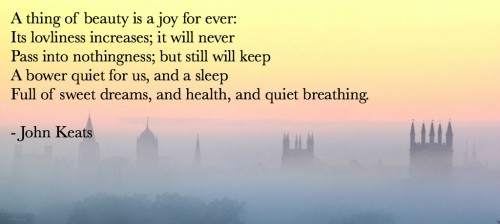 *full poem is here: https://www.poetry.com/poem/23334/a-thing-of-beauty-(endymion)
(his eyes fill with tears, he dabs them with a handkerchief)
(Teenie, somber watches him, takes his hand when she sees the tears)
(Honeygarten clears his throat)
HONEYGARTEN
Claire loved Chopin and Debussy, Teenie.
We can listen to them.
*internals for Teenie (sound) from 70's this song
to page 107, in my novel Heart of Clouds, to go to film.